A lot of fiction, a little creativity, a little parenting – here's what I read in 2018, in the order I read them. I almost met my goal of 30 books! This year I learned that I'm either a slow reader, or I just don't take the time to read enough. (Note: Thar be affiliate links below. Any purchases made through those links go towards paying a meager portion of my hosting fees and supporting my own book habit.)
The Year of Living Danishly
Helen Russell
Really fun read. Great way to start the year. I wish I was Danish. (Also I love this Danish band.)
The Unraveling of Mercy Louis
Keija Parssinen
Like a modern-day Salem witch trials, but set in Corpus Christi, TX. Really haunting and good. Parssinen nails the hot, sticky and somewhat dismal aura of Corpus.
The Magnificent Maya Tibbs
Crystal Allen
Because yes, I DO count chapter books I read with my kids. This one was fun and spurred good conversations about friendship.


The Girl You Left Behind
Jojo Moyes
I love a Jojo Moyes story. This one wasn't my favorite, but I still enjoyed it. A painting, a couple separated due to the war, and the trouble it causes years later when a woman realizes she owns a piece of Nazi-stolen artwork.
The Four Tendencies
Gretchen Rubin
I think Gretchen Rubin's Four Tendencies are pretty fascinating. I'm a classic Obliger, and my husband is a Rebel. It's really interesting learning about your own tendency and the tendencies of others (I have a friend who is a classic questioner, and so much more makes sense now.)
A Man Called Ove
Fredrik Backman
Grumpy old man's heart is softened by young neighbors. Highly recommend.


The Girls
Emma Cline
I had high hopes, but nope. The similarity to the Manson Family story was promising, but it didn't live up. I hated this book.
The Enneagram: A Journey to Self-Discovery
Maria Beesing
Is all enneagram Christianity-based? If not, I'd love a good recommendation. If I have the bandwidth to absorb it, that is.
I'm Just Happy to Be Here: A memoir of renegade mothering
Janelle Hanchett
Addiction, separation from her children and eventual recovery. Janelle Hanchett, author of the blog Renegade Mothering, tells her story with wit and humor and seemingly impossible honesty.
All the Light We Cannot See
Anthony Doerr
This was on so many people's "best of" lists. It's a lovely and haunting story, but it's not on mine.


Run
Ann Patchett
I love Ann Patchett's fluid writing and deep characters. But I will say I kept waiting for something major to happen.
Untangled: Guiding teenage girls through the seven transitions into adulthood
Lisa Damour, Ph.D
Every parent of girls who are teens or will someday be teens needs to read this book. ORDER IT NOW.
Lying on the Couch
Irvin D. Yalom
This was recommended to me by my therapist friend. I told her there was too much convoluted therapy talk in it, and she said, "Huh. I didn't notice that." And I said, "Probably because that's just regular talk to you?"
Magpie Murders
Anthony Horowitz
A really fun spin on the murder mystery genre. Highly recommend!


The Midnight Assassin: The hunt for America's first serial killer
Skip Hollandsworth
Following up a fictional murder mystery with this true story of a killer who terrorized Austin in the late 1800s. The murders are gruesome, but the detail into Austin's history is fascinating.


How to Avoid Extinction
Paul Acampora
We kicked off our Bluebonnet Challenge with this book, and it was a really fun read about the importance of friends and family. Who doesn't relate to a someone crazy family member? Kids give it a thumbs up.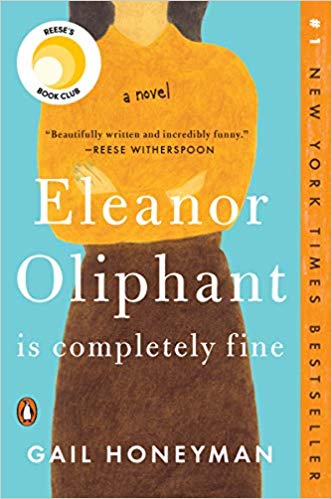 Eleanor Oliphant is Completely Fine
Gail Honeyman
Easily the best book I read in 2018. Eleanor is quirky and lovable, but has some deeply buried demons. So, so good.


The Unlucky Lottery Winners of Classroom 13
Honest Lee
Another Bluebonnet Award nominee, this book was hilarious. The short chapters and fun shenanigans made it a super easy read.
Daily Rituals: How artists work
Mason Currey
I love reading about the rituals of others. Currey has curated daily rituals from artists, writers and more, in short chapters, so I felt free to skip the people I didn't recognize. Spoiler alert: I only remember three, maybe even just two artists profiled who even mentioned children affecting their daily routines. I mean, wouldn't it be nice to be able to pretend your family didn't exist? *eyeroll*
Learning to Breathe
Heather Davis
Fellow NICU parent Heather Davis sent this to me to read for work. It's so interesting reading other parents' NICU experiences. These little micro preemies definitely had a tedious start!
Harry Potter and the Goblet of Fire
J.K. Rowling
You guys. We started this book in January. We finished it in November. It's a long, long book to read aloud. (It was a second time reading for me, and of course I give it thumbs up.)
Crazy Rich Asians
Kevin Kwan
I thought this would be a fun read, but I didn't seem to enjoy it as much as a lot of people. Still want to see the movie though.


Garvey's Choice
Nikki Grimes
Another Bluebonnet Award nominee, the story is written in tanka poetry form, which was really interesting to read. Loved the story.
Lincoln in the Bardo
George Saunders
Me, still: ? (I appreciated the uniqueness. Not sure I was smart enough to read this one.)


Twin to Twin: From high-risk pregnancy to happy family
Crystal Duffy
Another book for work, a gripping story of one mom's terrifying high-risk pregnancy with twin-to-twin transfusion syndrome and eventual premature delivery.
Art & Fear: Observations on the perils (and rewards) of art making
David Bayles
I tried to read this years and years ago, but put it down. Maybe I wasn't ready? This time I think I was. Lots of nuggets of artist wisdom. Now will I apply them?
What the Hell Did I Just Read? A novel of cosmic horror
David Wong
Apparently this was book #3 in a series? I did not know that when I picked it up. But if you have read and liked John Dies at the End and/or This Book is Full of Spiders OR you just like silly, ridiculous books about monsters, definitely check it out.