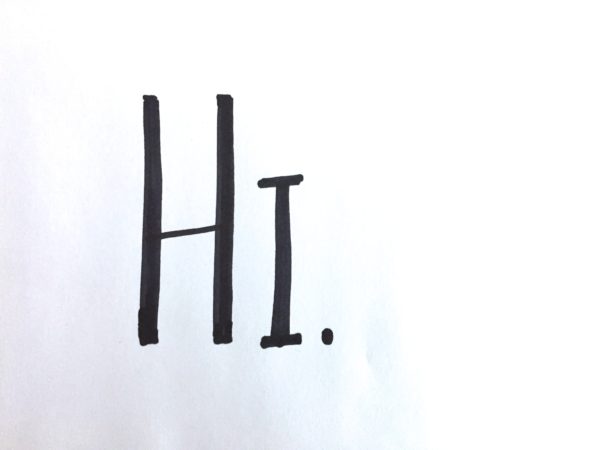 I'm not sure why I feel the need to make introductions. I do this with journals too. I can't just open up a journal and pick up where I left off in the last one. It's too stark. This journal doesn't know me.
So I introduce myself. Hi journal, nice to meet you. I'm going to spend the next several weeks, months – okay, let's be real, probably over a year – trying to make you a habit. "Write every day!" I'll tell myself, "Just like David Sedaris!" But I'm not David Sedaris, so your life as my journal just got a lot less interesting. See you tomorrow. (But probably not?)
After a while the journal will either become an old friend, or it will plague me like that family member you can't bear to spend one more minute with during the holidays. It's too big, or it's too small. It doesn't fit into my purse easily. I get tired of the cover. My handwriting gets bigger and bigger in order to take up more space. Just get on with it, I say, begging for it to end so I can start something fresh. Either way, I eventually reach the last page, unceremoniously place it on the shelf, and pull down a fresh one and introduce myself and declare my intentions.
Good intentions are just that – intentions. As much as I'd love to document the day to day observations of life, I'm most likely to pick up my journal when I'm feeling down and overwhelmed. It helps me clear my head. I always feel like I need to have one handy, just like a good book.
Or a blog.
Last fall I shuttered my blog of eight years, Genie in a Blog, due to some undesirable attention from a creeper. I felt at peace with it at first. Blogging was feeling forced and inauthentic. I darkened my little corner of the web, and exactly two people asked me about it.
My blog was my home. Even though it felt forced at times and sometimes it was that annoying family member, I missed it. Like a trusty journal, I needed something there just in case I had something to say. So here we are. Just like a new journal.
And once again, my first entry is always an introduction.
SaveSave