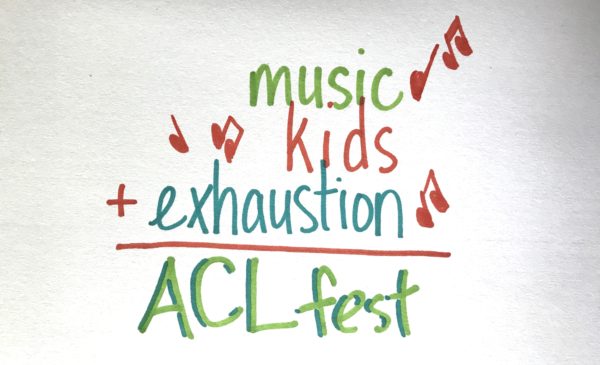 In 2015 I spent my entire weekend glued to the ACL Fest live stream and watched in envy as several of my friends shared their fun ACL photos on social media. Seeing their kids perched on their shoulders, sporting muti-colored hair and giant, noise-muffling headphones, I made a declaration to my husband: We are doing this next year.
I had it all worked out. We would buy 1-day passes, take advantage of the free entry for kids ages 10 and under, and we could spend the entire day listening to good music and reclaiming a little bit of the carefree people we were before we became boring, AKA "had children." And since my birthday is in October, he wouldn't have to worry about a present. This was it.
He considered this for a moment, nodded thoughtfully, and said, "That doesn't sound like even a little bit of fun."
And I was like, "It'll be fine. We're doing it."
I live by the phrase "hope for the best; prepare for the worst." The ACL Fest does an amazing job of creating opportunities for families to have a fantastic and safe time at the event. But keeping your expectations in check is the only way you will survive.
Will you get to see all of the bands on your wish list? Maybe! If it's short!
Will you be up front in the mosh pit (and did I just date myself by saying "mosh pit?)? Most likely not (and yes! I probably did!).
Will you spend inordinate amounts of time in line for the bathroom, then the water, then the bathroom, and then the water again? Absolutely.
In the best case scenario, your children are the quintessential festival kids. Think flower crowns, air guitars, and energetic subjects that don't mind traversing the park a dozen times throughout the day or standing crotch-level within a group of adults listening to Ice Cube, even if they only know Ice Cube as the Candle Maker in The Book of Life. You'll spend hours in Austin Kiddie Limits, drumming and building and doing crafts. No one will get lost. Your children will befriend a fat caterpillar and name him Blubby and then trot off with you to see The Strumbellas. You will always have a clear view of the stage, and no one will whine, ever.
Worse case scenario, your kids will be tired because it's a Friday and you made them go to school that morning. Their insatiable appetites will blow through giant slices from Southside Pizza and a large bag of popcorn from Children of the Kettle Corn. When you see them eyeing your Mighty Cone you'll quickly redirect them to the GoodPop stand because you will pay good money for an organic festival frozen fruit pop and the ability to eat your Mighty Cone in peace. Someone's hand will swell up because apparently Blubby the caterpillar bites. Who knew? A child will fall asleep in your lap during Foals, and the other two will lay on your shoulder or back or basically any available body part. You are a human children's leaning pole. Go with it. Your partner would love to help, but he's stuck carrying approximately 1000 pounds of jackets you insisted on bringing because you forgot you live in Texas.
Preparation is key when attending a huge event like ACL with children. But you can do it. Here are a few tips to give you more of that best case scenario, while still prepping you for the worst.
Austin Kiddie Limits is a must. Enter the festival through the family-friendly entrance and head straight to Tag-A-Kid to register your kids and receive a special wristband. If you and your child get separated, festival volunteers can quickly reunite you.
After everyone's tagged, walk straight into Austin Kiddie Limits. Turn your child into that quintessential festival kid by getting their hair sprayed by the AVANT Salon and getting inked in sweet tats by Tatooz. Lounge around the Land of Nod play area, and kick back as your kids do crafts, play ping pong, paint on the mural wall, as the lineup of kid-friendly musical acts rotates in the background.
Heed my warning, Austin Kiddie Limits is hard to leave, especially if you have actual children. I am a 38-year-old adult woman, and I want to live there. (And pssst! There are family bathrooms!)
Leave the jackets at home. As an overprotective parent, you will be tempted to take a jacket with you. Maybe even a light chambray shirt! After all it is October, and coming off of a sweltering Texas summer, the brisk fall morning air will confuse you. Know this: you won't need them. "But what if it's chilly when the sun goes down?" you'll say.  Let me ask you this: If a cool breeze were to blow over the surface of the sun, would you catch a chill? Is hell known for its rapidly dropping temperatures? Most importantly, do you really want to be stuck carrying five jackets around for the rest of the day? I asked my husband that last one and he said, "Absolutely not." He speaks from experience.
Get your children invested in the music. Get to know the ACL Fest lineup. Point out every festival artist you come across on the radio. Play samples of artists they know and artists they don't. They already ask for The Head & The Heart because they inherited your good taste. Wake them up in the morning with a little Jay-Z and Chance the Rapper, put on the calming, folksy tunes of First Aid Kit at dinner, then soothe them to sleep with the soft electronica of the XX. Play them Milky Chance at breakfast just so you can hear them laugh when you say "Milky Chance," and then introduce them to Car Seat Headrest so they'll realize that when it comes to band names, nothing is out of reach, really.
Get the cashless wristbands for yourself and your accompanying adult.  You'll need this for all purchases, especially those of the sugary soda variety and the snacks your kids will ask for every 23 minutes. And beer.
Bring your own water bottle. The ACL Fest allows two factory-sealed water bottles, or you can bring your own empty water bottle or hydration pack. Free water stations are set up all over the park for refills. We noticed a big difference in the placement and number of stations in 2016, making water much easier to come by.
Consider earplugs for kids. Even quite a ways back from the stage, the music is loud for little ears.
Find a good, shady spot to camp out. Look for a patch of grass that isn't too far away from the bathrooms, but maybe isn't right next to them either, so the rest of the festival doesn't hear your kids exclaim, "Wow, this porta pottie smells so good!" and you are reminded that your children prefer portable toilet smells to those of your own house. On a serious note though, festival bathrooms are always decent and well stocked. 2016 even saw the introduction of actual bathroom stalls. I was more excited about this than my children were, naturally.
Potty proximity aside, finding a place to chill for a while is key, and if it's in view of multiple stages, even better. It's great to get up close to a band, but when you can cool off in a shady place, eat French fries, and listen to Vance Joy and then Of Monsters and Men for two hours, you have found a little slice of festival heaven. After being shepherded around for a good chunk of the day, my kids appreciated the opportunity to run around and play hide-and-seek amongst groups of possibly inebriated festival goers, who surprisingly seem to love it too.
At the end of the day, you will be reminded that although you may feel young on the inside, you are, in fact, not. Your ears will be ringing from hours of music. Your throat will be raw from dust and yelling over the noise, and your feet will hurt so damn bad you want to lay in the middle of the park and make it your home. Maybe some nice festival attendees will take pity and build you a simple shelter out of discarded jackets. Probably not.
Despite your aching legs, you'll still carry your 6-year-old out of the festival gates and to the car, because she's little and you can. Everyone will fall asleep during the drive with their necks at questionable positions as you head back to your not-quite-suburban home, but not before declaring Festival Day the Best Day Ever and asking through their yawns when they can go back.
And here's a little illustration of Blubby the Caterpillar, before we tossed him across the park for biting.